For mobile internet in the past 2017, we saw further diminishment of demographic dividend, obvious Matthew effect, sustained development of mobile shopping, boom of short video, etc. Here is QuestMobile's report to give you a whole view of China's mobile internet in 2017.
Diminished of Demographic Dividend
The number of mobile devices connecting to mobile internet was always above 1 billion in 2017 and increased slowly from 1.02 billion to 1.09 throughout the year. In addition, the YoY growth declined month by month which also demonstrates the diminishment of demographic dividend. China mobile internet is facing a great test in user growth.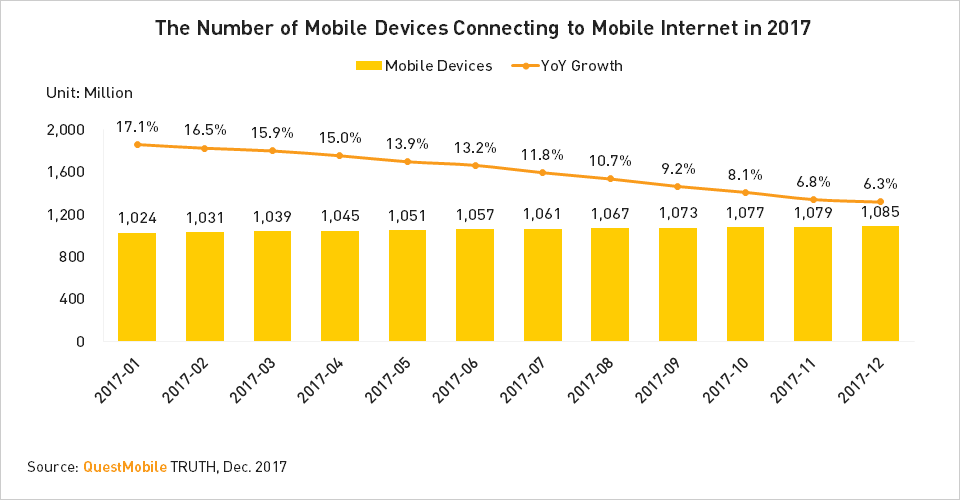 Global Leading Position in Mobile Payment
China mobile payments reached 5.5 trillion dollars in 2016 and was expected to skyrocket to 15.4 trillion dollars in 2017. The number of China mobile payment users saw 25.6% growth from 2016 to 2017, according to QuestMobile.
By comparison, the US lagged far behind China in mobile payments which was only 112 billion dollars in 2016 and China's would be about 70 times greater than it even though it was estimated to increase to 220 billion dollars in 2017.
Marginal Rise in Daily Time Spent per User
Comparing with 2016, the total monthly time spent grew rather slowly and daily time spent per user was also just prolonged by 8.7 minutes.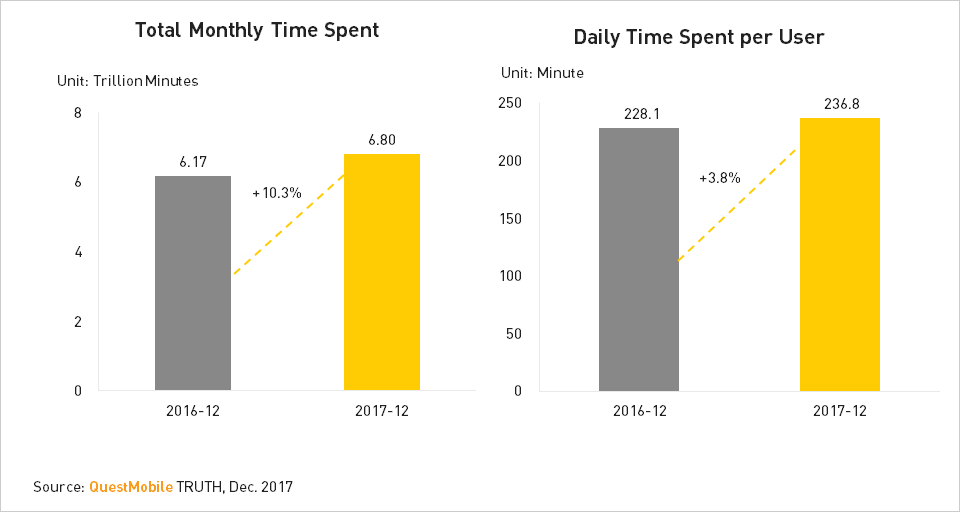 80% of Chinese Mobile Internet Users' Needs Being Satisfied by 35 Apps
Although there are already more than 4.06 million apps in China, data show that 35 apps are enough to satisfy users' basic needs for shopping, entertainment, utility, etc. People's existing app usage habits create tough environment for new apps, and we'll see fiercer competition in future.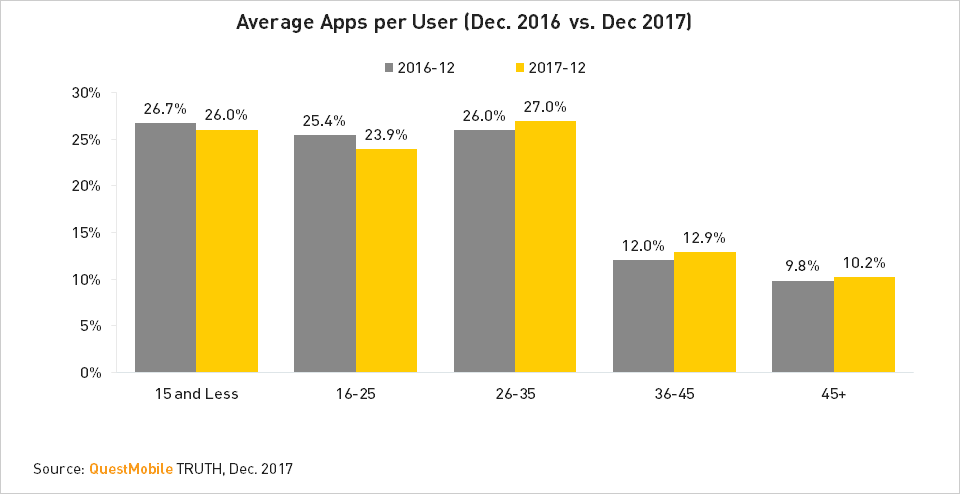 Obvious Matthew Effect
SNS, shopping, music, news and video are always hot market segments. The time spent of top 3 apps in above industries were all more than half of the total time spent of their respective market segment. Specifically, the top 3 NSN apps, WeChat, QQ and Weibo, jointly created an amazing ratio of time spent, 96.2%, in Dec. 2017.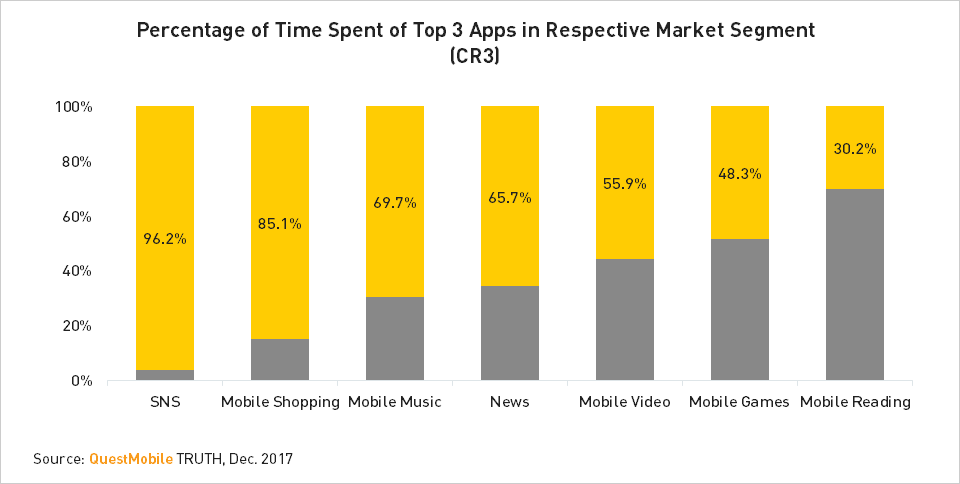 Post 80s Were Still the Main Force
Comparing with 2016, there was little change in the age structure of China's mobile internet users in 2017. Among new users, there were 29.64 million post 80s, followed by 23.02 million post 90s, showing that post 90s were gradually appearing on the stage.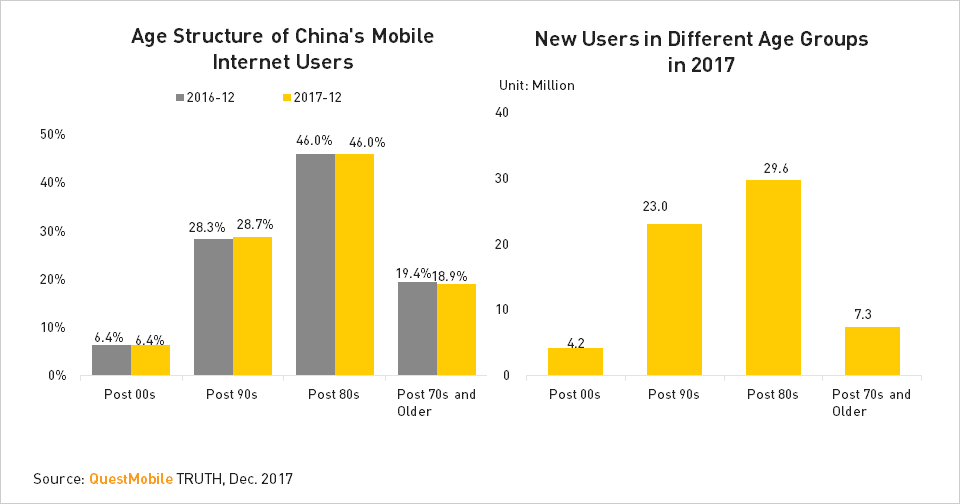 First Tier Cities for Post 80s, Second Tier Cities for Post 90s
Among the mobile internet users in first tier cities, post 80s occupied the largest proportion, 0.7 percentage point higher than that in all internet users. As for second tier cities, post 90s were the main force with 2.5 percentage points higher than the overall level.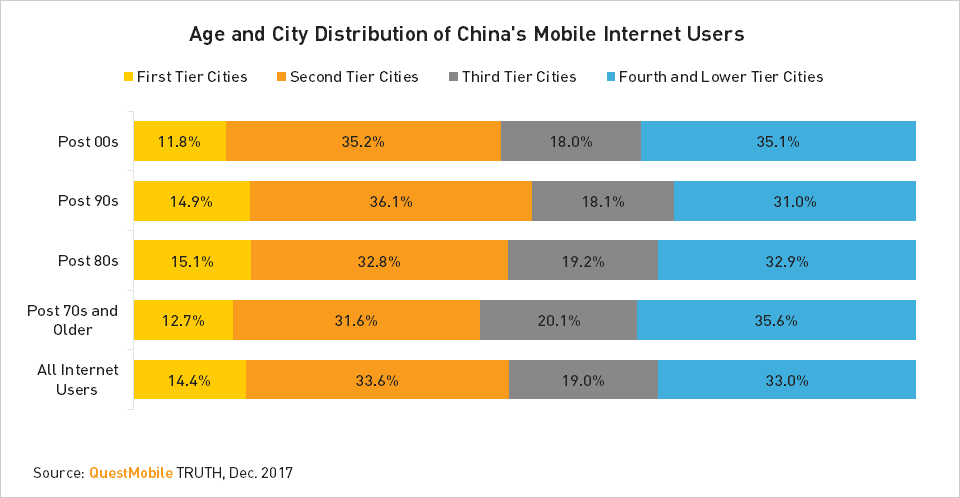 Average 21.9 Apps per Post 00s
The younger the user is, the more apps he will use. Data show that comparing with the all internet users group, post 00s and post 90s were using obviously more apps. Post 00s averagely used 21.9 apps in 2017, 2.3 apps more than they used in 2016, and it was 20.5 and 1.1 for post 90s correspondingly.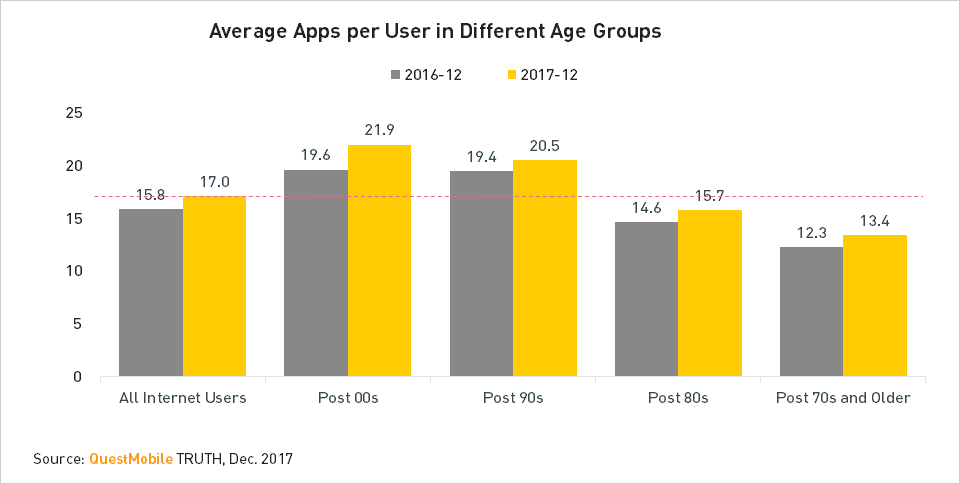 Most Post 90s Installed More Than 45 Apps
Among internet users who installed more than 45 apps, post 90s occupied the largest proportion with 1.9 percentage points higher than its share in all internet users. Meanwhile, the share of post 90s in the group with 36 to 45 apps was 2.4 percentage points higher than the share in all internet users.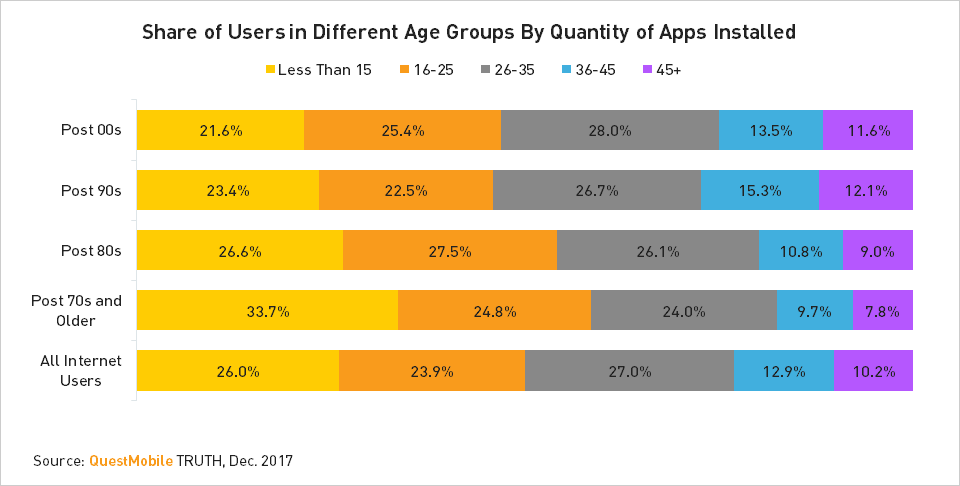 6.3% YoY Growth of Post 00s' Time Spent
With continuous popularization of mobile internet in China, the monthly time spent per user reached 104.5 hours in Dec. 2017, and post 00s created the fastest YoY growth.
More Than 300 Million Users of WeChat Mini Program
With increasing entries to WeChat mini program, users were gradually familiar with it, and the number of users is expected to surpass 500 million with penetration rate above 50% in 2018, forecasted by QuestMobile.
410 Million Audiences of Short Video
After being suppressed by live streaming apps in 2016, short video apps experienced explosive growth in 2017, as the number of users exceeded 410 million with YoY growth of 116.5%. It was already the hottest market segment.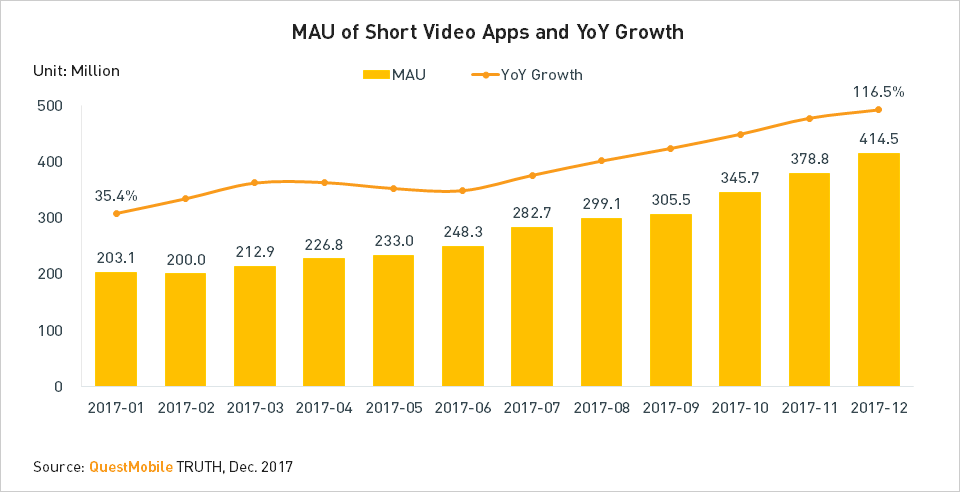 Soar of Total Time Spent Boosted by Fragmented Use and Various Content
The total time spent of short vide apps accounted for 5.5% of that of all mobile apps in 2017, which was only 1.3% in 2016.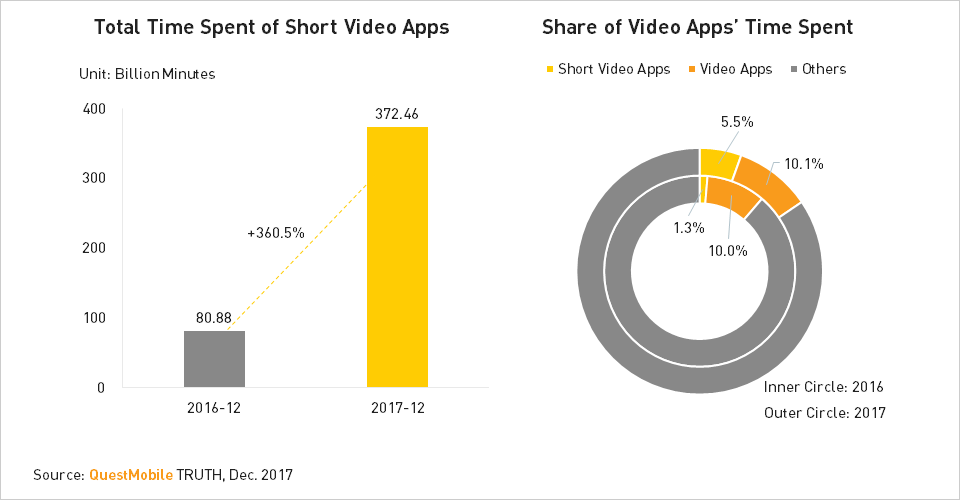 Some Decline in Time Spent per Session
Explosive development of short video industry generated impressive increase in total time spent as well as time spent per user, and it had become one of the main online entertainment scenarios.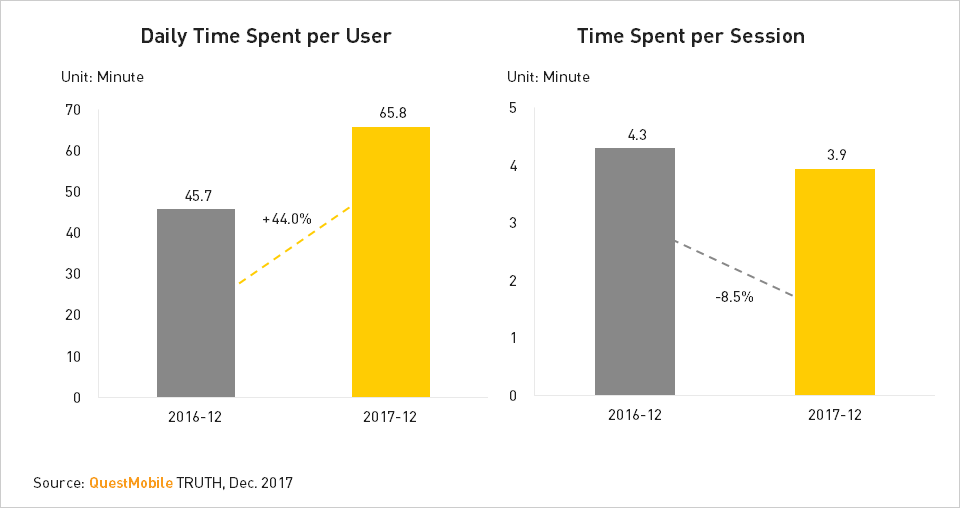 Majority of Users Only Installed One Short Video App
75.5% of short video users only installed on short video app in Dec. 2017, according to QuestMobile. Therefore, app operators should try their best to retain users before they form their viewing habits.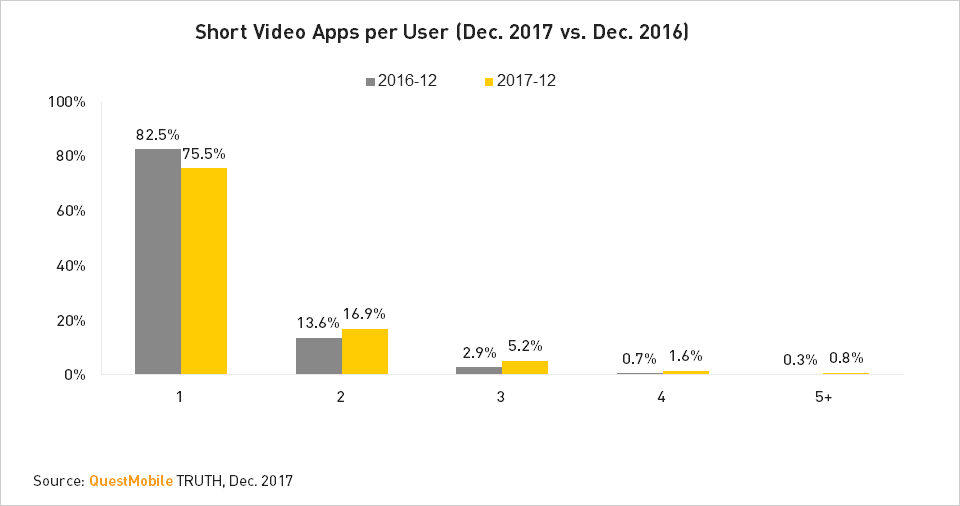 Explosive Growth of Quiz App Users
As quiz live streaming boomed, quiz app users increased tremendously. By Jan. 9, 2018, the DAU of Chongding Dahui and Zhishi Chaoren reached 1.47 million and 620,000 respectively and kept increasing with the continuous rising of bonus, according to QuestMobile.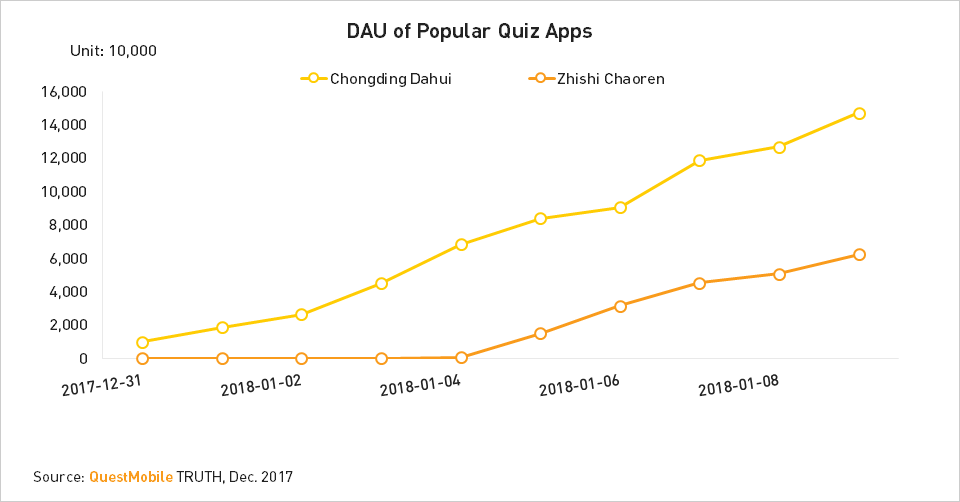 DAU Surge of Toutiao and Watermelon Video
Relying on existing user base, Toutiao-affiliated apps launched quiz channel and attracted great numbers of quiz fans. Headlines Today and Watermelon Video had 3 million quiz answerers which pushed up their DAU.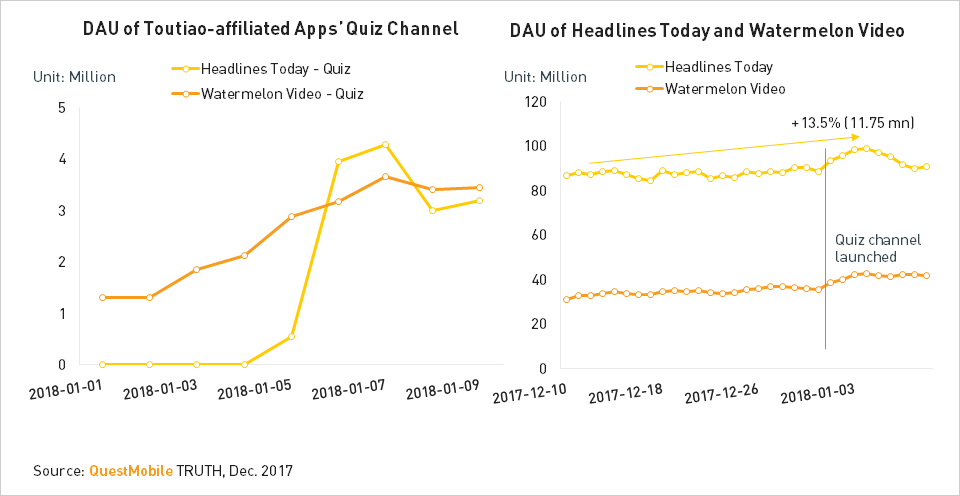 Young People Were More Interested in Quiz Live Streaming
Comparing with Headlines Today and Watermelon Video's all users, the quiz answerers under 24 had higher TGI, reflecting that young people were more interested in it.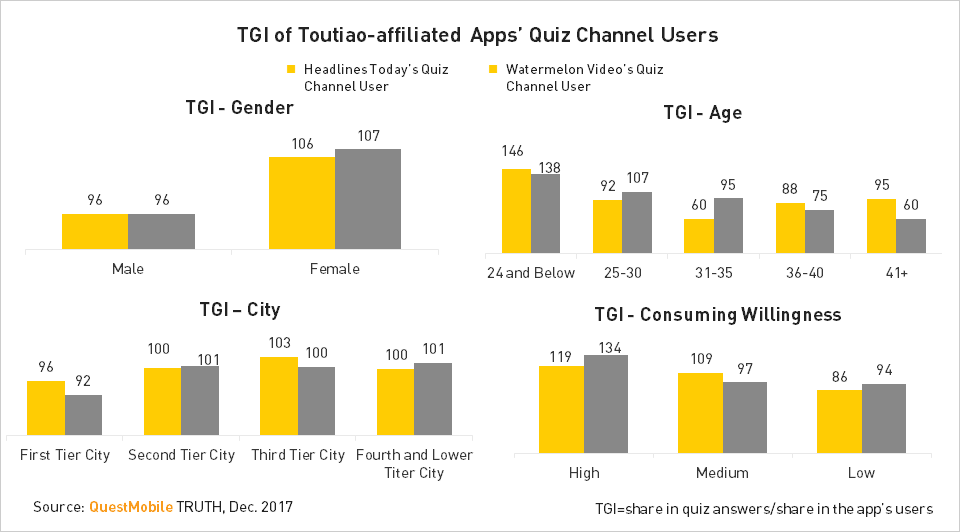 Satisfactory Performance of Shopping Apps
With the combination of online and offline retailing as well as further popularization of mobile payment, mobile shopping grew steadily in 2017 and the number of users even skyrocketed to 727 million in Nov. driven by the Nov. 11 Festival.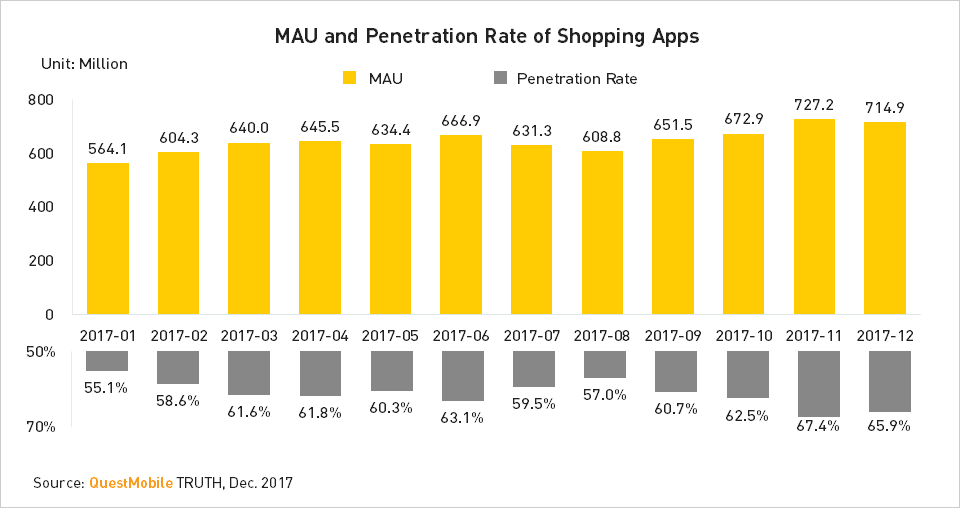 An Increasing Number of Users Installing More Than Three Shopping Apps
In 2017, the share of users who installed more than three shopping apps witnessed substantial expansion. Various e-commerce platforms gradually form their respective feature. For example, JD is people's first choice for 3C products; Taobao is advantageous in diversity of goods, while Vip is featured by special offer. In addition, emerging platforms also have their users.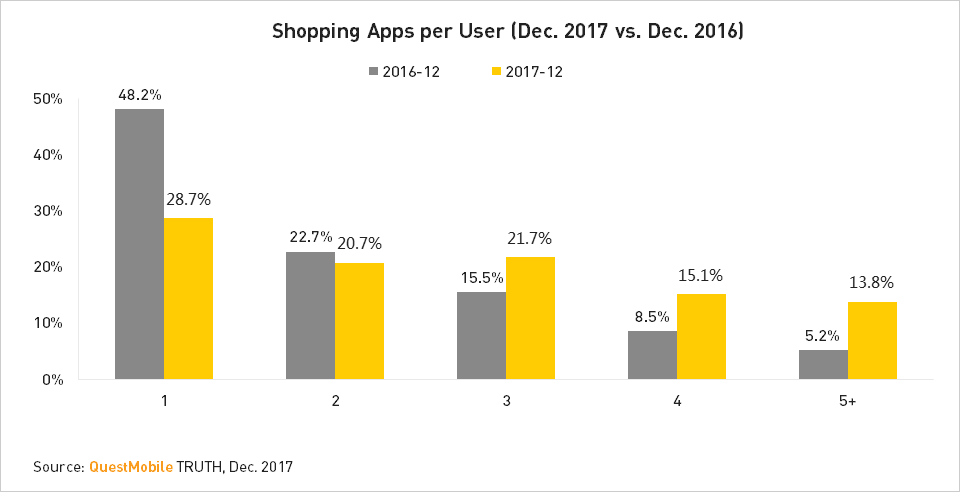 Taobao Took the Lead in Active Degree, Followed by Pinduoduo
Relying on abundant goods, diversified goods display as well as functions including live streaming, commodity recommendation, etc., Taobao was definitely the No. 1 by users active degree in mobile shopping industry.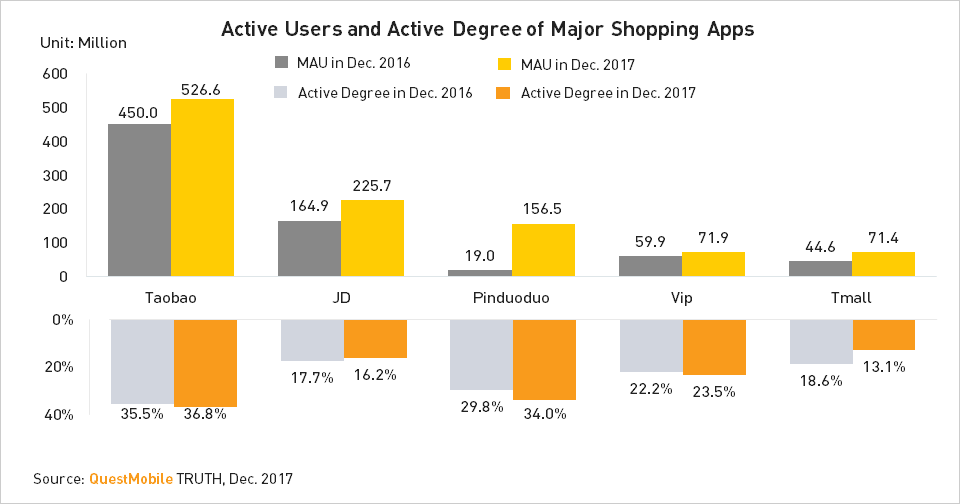 Significantly Overlapped Users Between Taobao and Pinduoduo
50.3% of users who uninstalled Taobao would choose Pinduoduo, and 78.3% of users who uninstalled Pinduoduo would choose Taobao, reflecting that their users were highly overlapped, so the competition between them would be even fiercer in the future.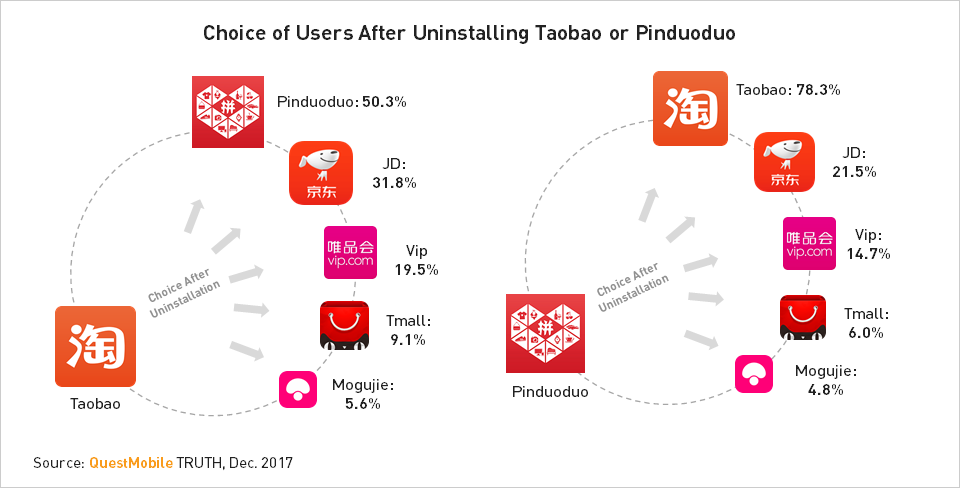 Continuous Users Growth of Top Video Apps
The users increment of mobile video industry was basically contributed by top 3 apps in 2017. Comparing with last year, various apps had no much variation in users active degree.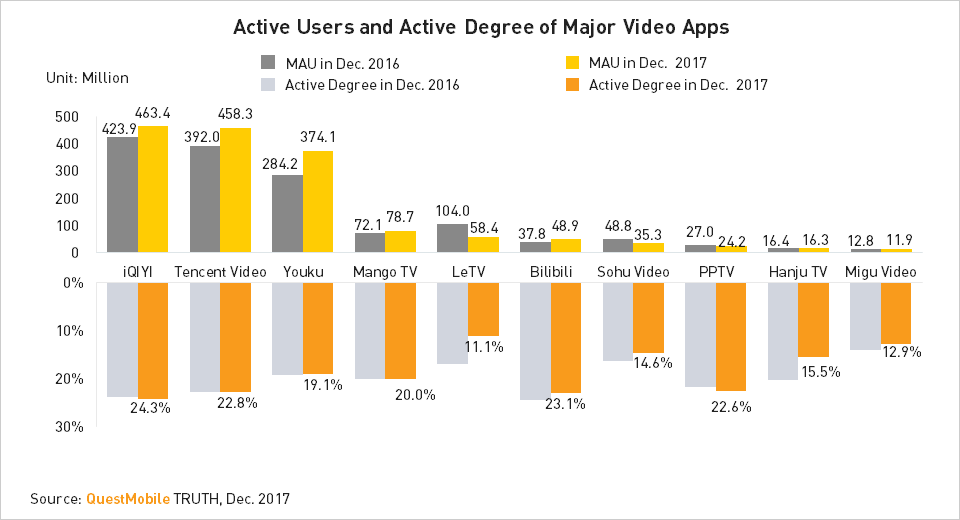 General Decline in Conversion of New Users to Active Users
Although top video apps generally experienced decline in new active users, iQIYI managed to gain 15 million new active users in Dec. 2017 comparing with the same period of last year.
As for the conversion rate from new users to active users, the whole industry witnessed about 10% fall, implying increasing difficulty in getting new users.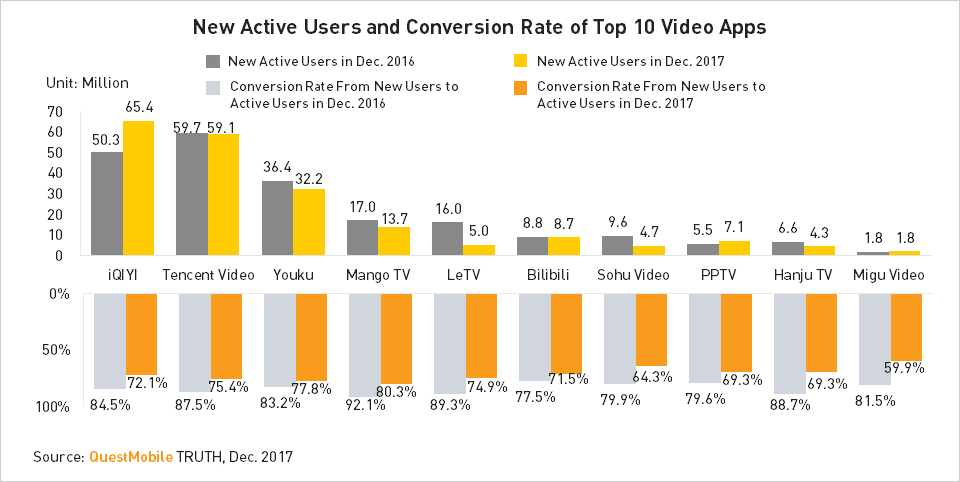 Obvious Rise in New Users Retention Rate of Top 10 Video Apps
Top 3 apps saw substantial rise in retained new users and the conversion rate from new users to retained users generally increased for top 10 apps. Although it's difficult to gain new users, the exclusive content of different apps was still attractive, so the user loyalty was enhanced somewhat.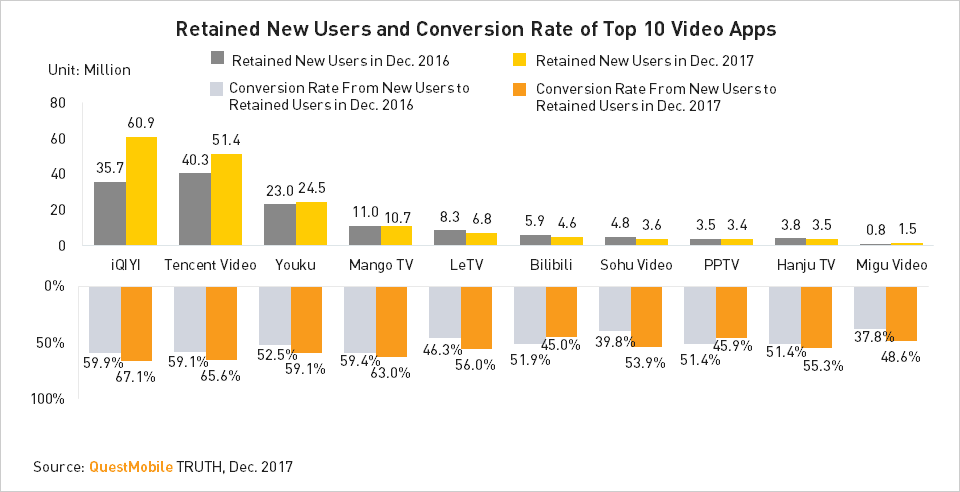 Substantial Rise in Long-term Retention Rate of Active Users
Top apps' long-term retention rate of active users also increased, especially Youku. Bilibili dwarfed others in the percentage of loyal users.
In spite of tremendous fall in MAU, LeTV experienced a fluctuant rise in long-term retention rate since Jul. 2017, and the retained users were mostly loyal ones.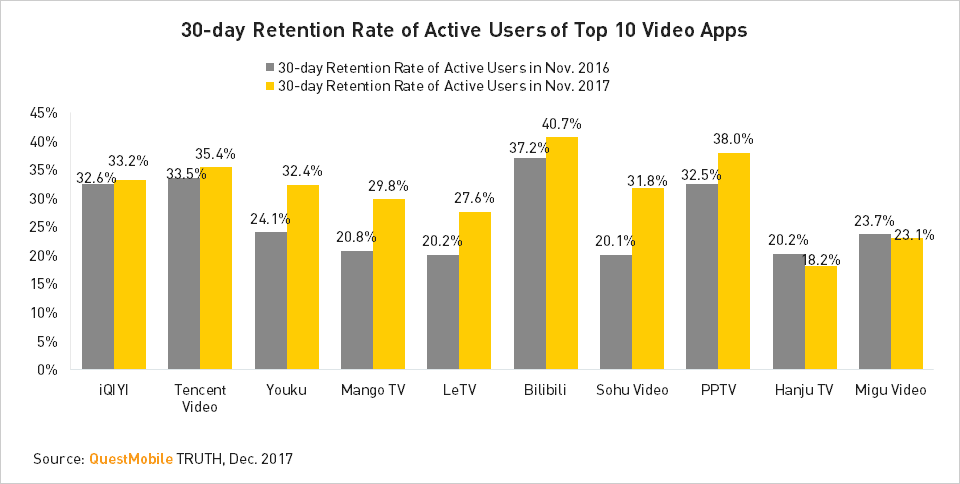 People Often Viewed Video at Leisure Time
People liked to view video with their mobile devices when they were resting or on vacation.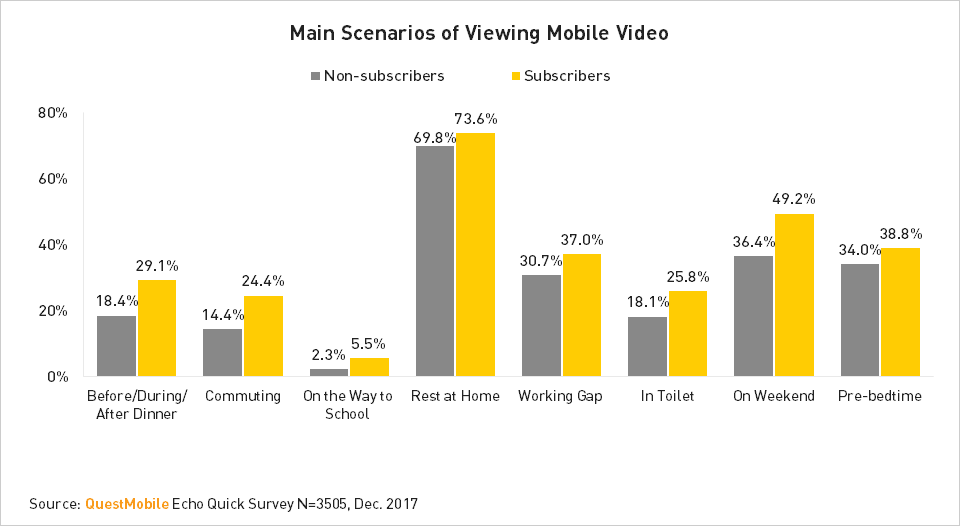 Higher User Stickiness of Subscribers
Various video apps will certainly put in great effort to convert non-subscribers to subscribers and enhance their retention rate in 2018.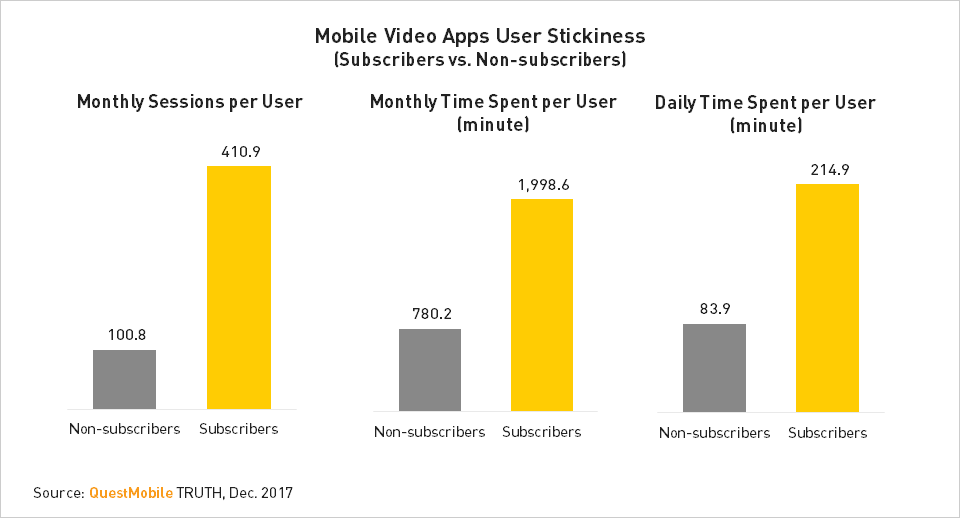 Subscribers Were More Active at All Time Buckets
The active degree of subscribers was averagely 7.8 percentage points higher than that of non-subscribers in Dec. 2017 and peaked at 12.2 percentage points.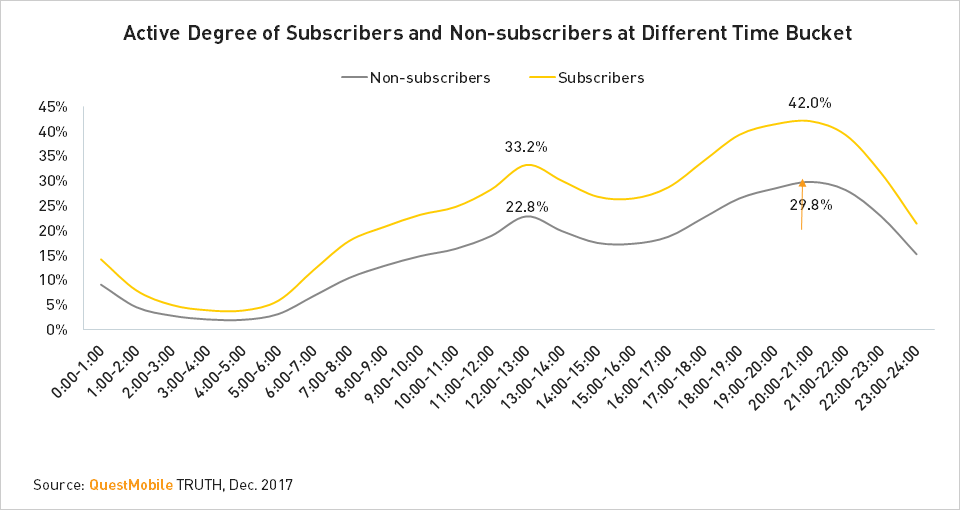 An Important Traffic Entrance
With high user stickiness, mobile news ranked fourth by monthly time spent per user among various industries in Dec. 2017.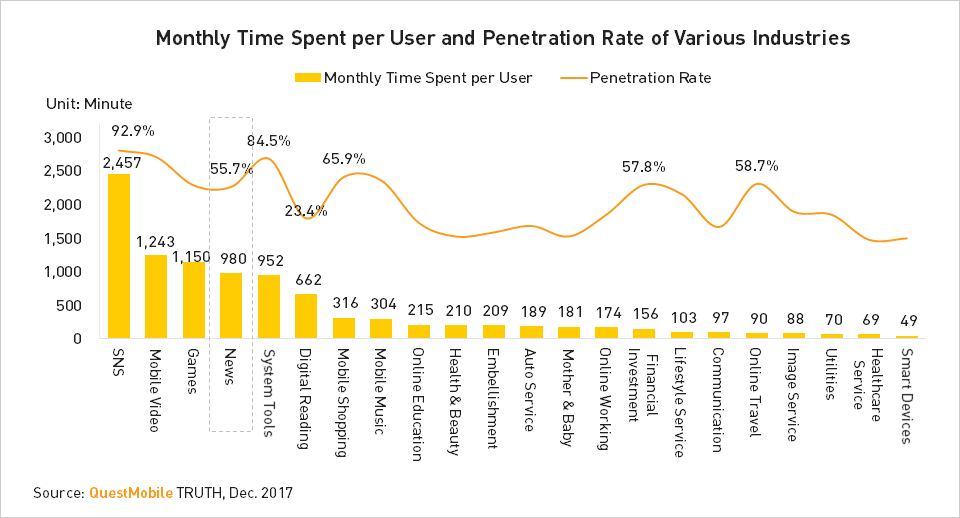 Increasing Users Installed More Than One News Apps
Comparing with Dec. 2016, the share of users who installed only one news app saw 10% drop in Dec. 2017, indicating reduced exclusive users for various apps.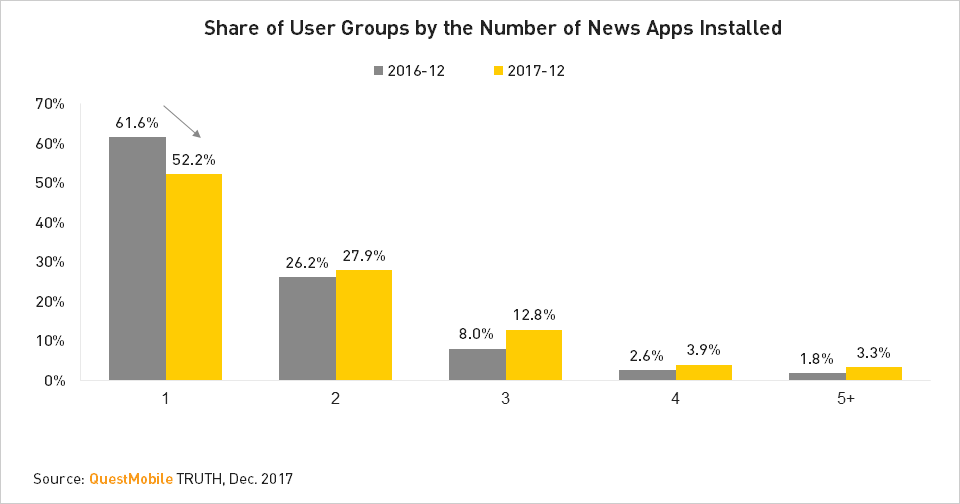 Video in News Apps Enhanced User Stickiness
Comparing with users who didn't view video in news apps, those who viewed these video definitely had longer time spent and more sessions, and there were already stable proportion of users who would view video in news apps.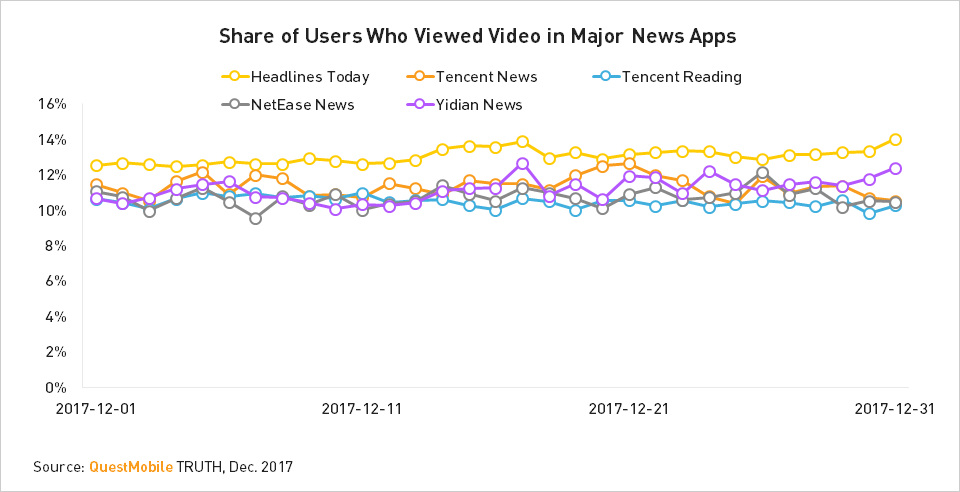 Graphic and Text News to Video News
The enhancement of user stickiness brought by video in apps had been demonstrated, so it would be an irresistible trend for mobile news developing from the form of graphic and text to video.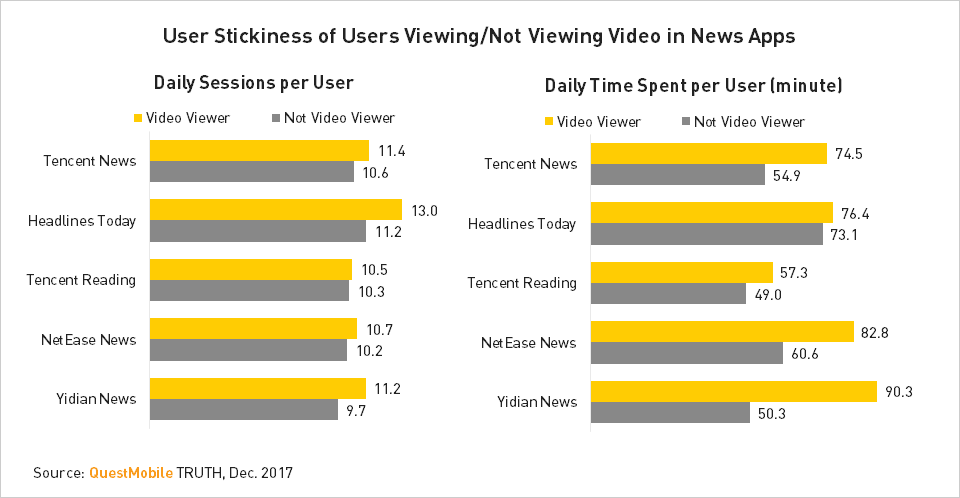 News Feed Became An Important Part of News Apps' Traffic
The out-app traffic of Sina News was 4.16 times as much as that of its in-app traffic, and mobile web also contributed 40% of Sina News' traffic.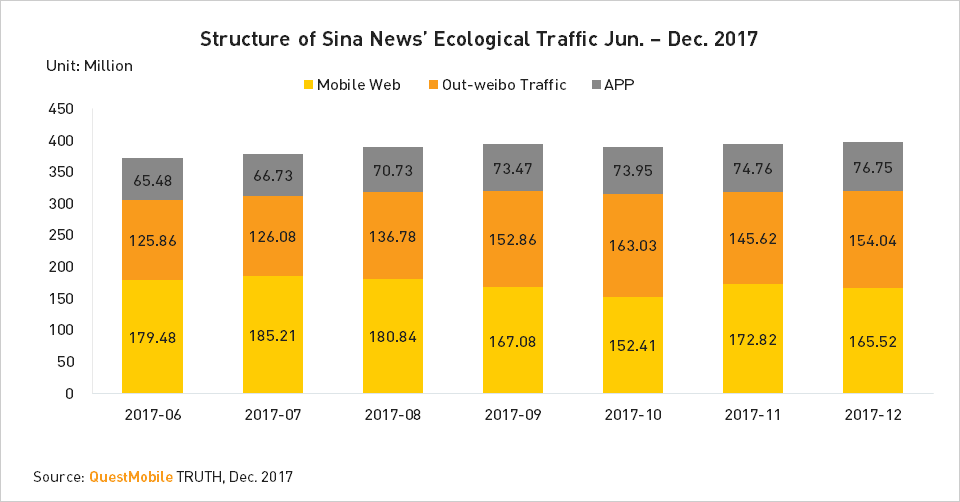 Impressive Traffic Contribution of Mobile Devices
OPPO and Xiaomi devices brought about 100 million traffic for Yidian News.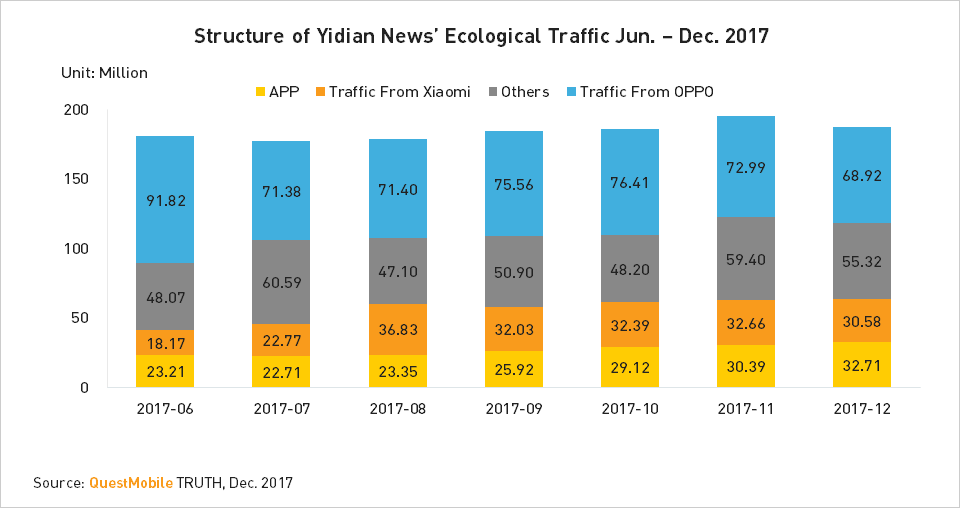 Baidu V9.0 Had Been Generally Accepted
After being launched in Jul. 2017, Baidu v9.0 was installed by increasing users.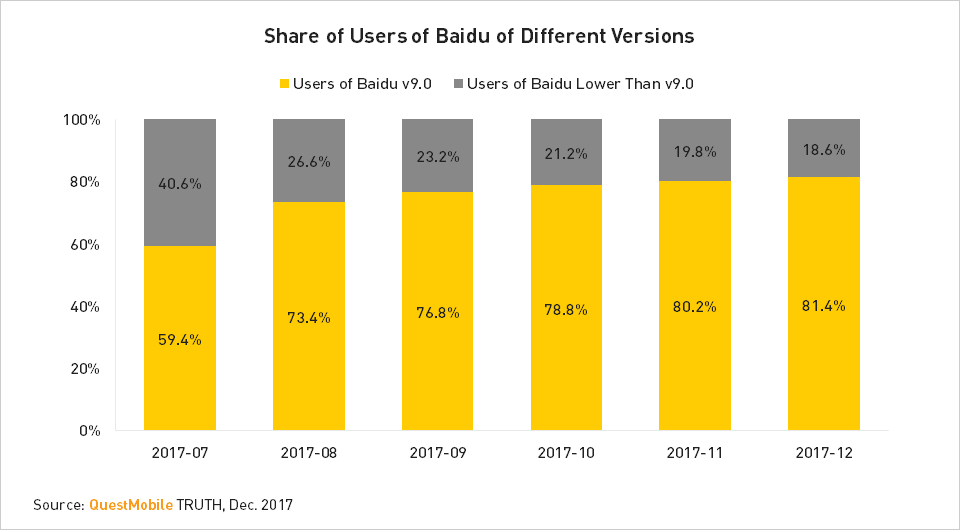 Upgraded Baidu V9.0 Had Higher User Stickiness
The upgraded Baidu V9.0 allows more news feeds as the search box is moved up, and the monthly sessions and time spent per user showed higher user stickiness.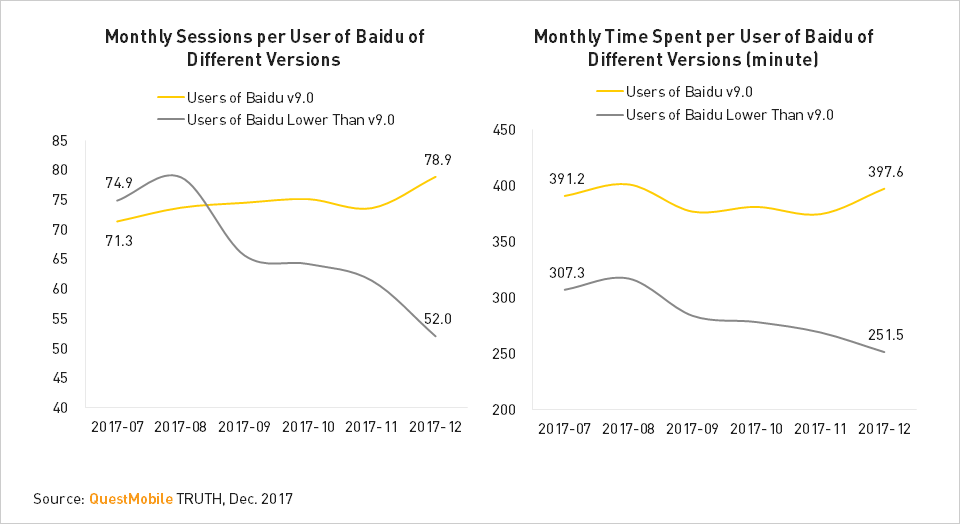 Baidu Was Competing With Headlines Today
Generally speaking, Headlines Today was still superior in daily time spent per user, but Baidu's users were gradually used to reading news with it.
Some Enhancement of User Stickiness of UC's Exclusive Users
The users overlapping rate between UC and Headlines Today declined marginally and the daily time spent per UC's exclusive user increased by 7.5% over last year.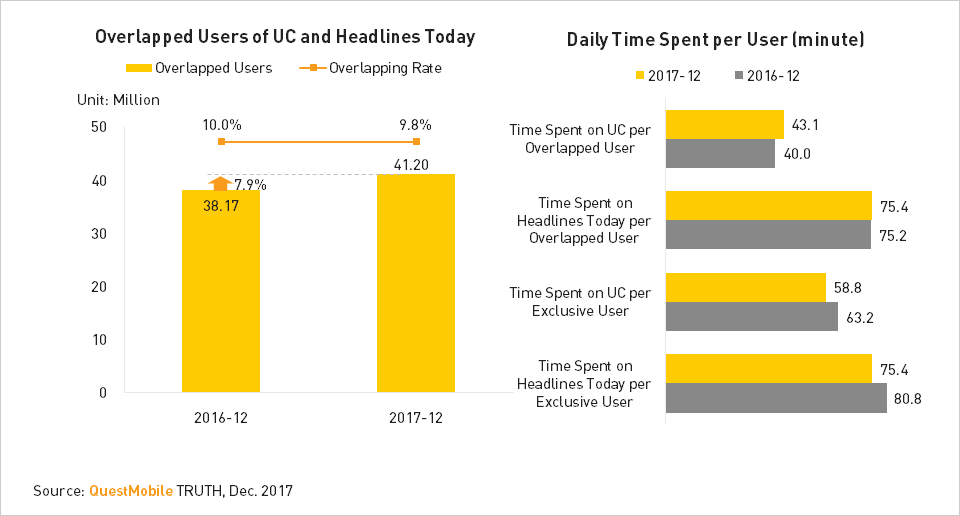 Steady Growth of Lifestyle Service Apps' MAU
QuestMobile data show that the penetration rate of lifestyle service apps reached 48.3% in 2017, reflecting a rising stage of this industry.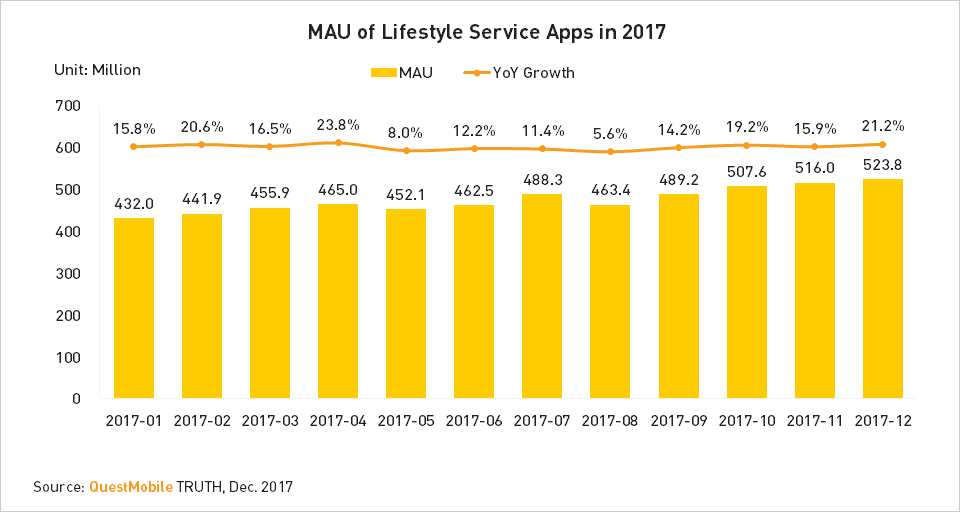 Top Apps All Gained Users Growth in 2017
Meituan's MAU increased 40 million in Dec. 2017 comparing with the same period of last year, outnumbering all the others, and the increment was mainly brought by the hotel and travel business which was just launched in 2017.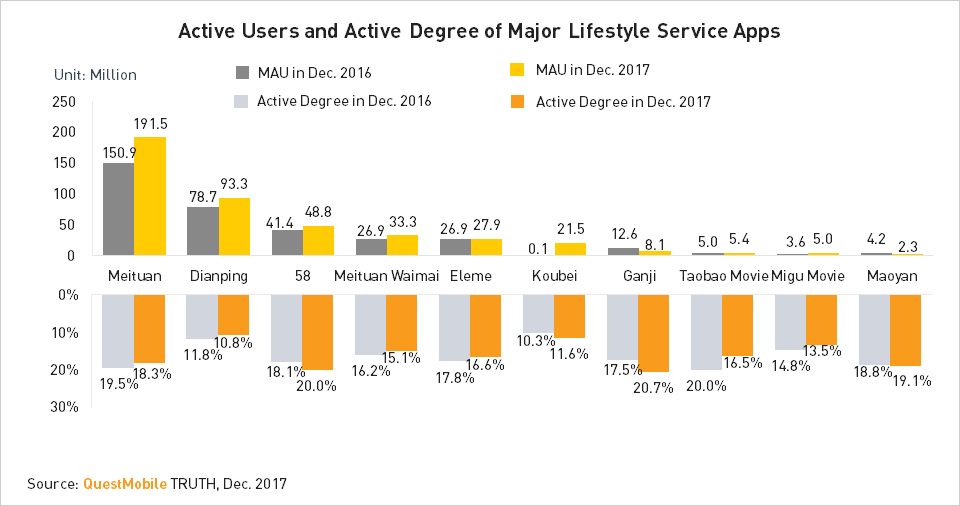 Meituan Waimai Had the Best Performance in New Users
Comparing with Dec. 2016, the new active users and conversion rate of major apps all witnessed some decline in Dec. 2017, expect Meituan Waiwai and a few other apps.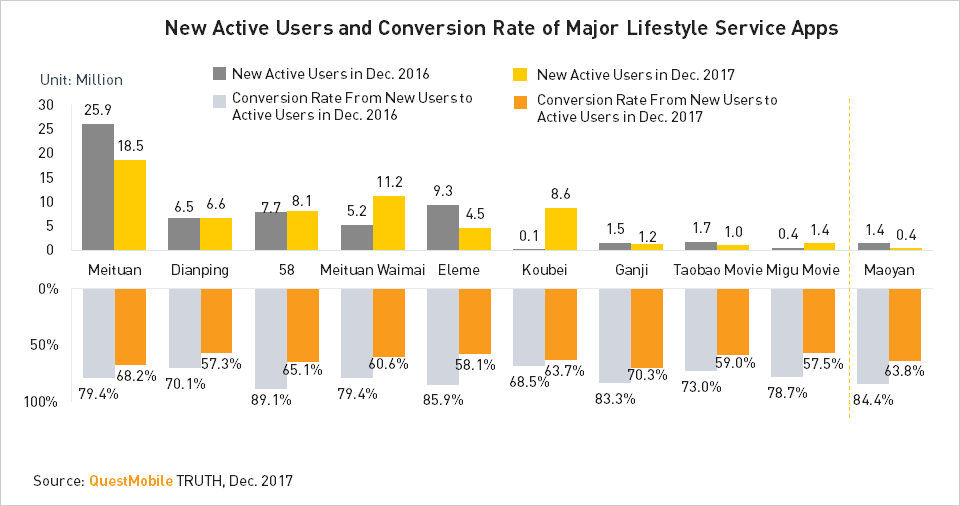 Better Performance in Retained New Users Than 2016
Meituan Waimai, Dianping and 58 had satisfactory performance in retained new users and conversion rate in 2017.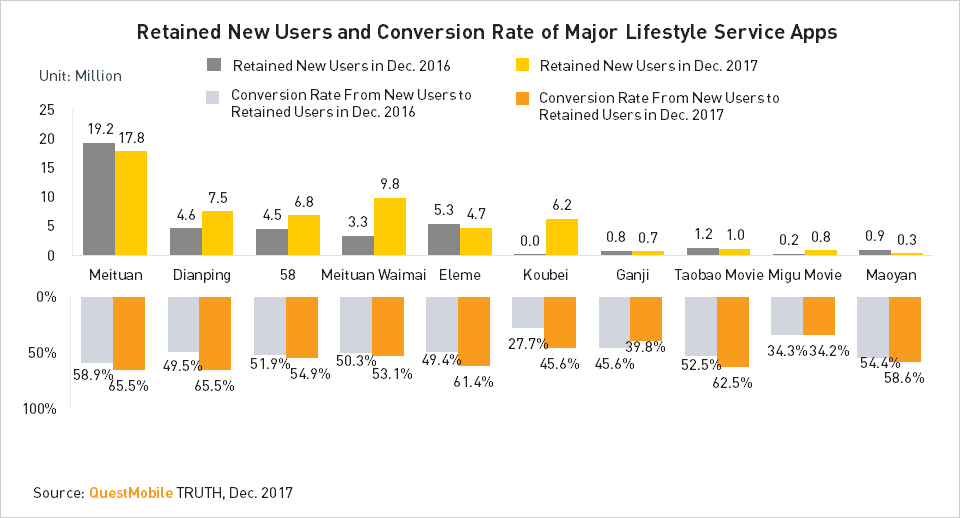 Slight Decline in Music App Users
The number of music app users stood at 672.4 million in Dec. 2017, 11.1 million less than that in Jan. There were two reasons for the decline. On one hand, the copyright war in 2017 resulted in some loss of users. On the other hand, the boom of short video made it another choice of users.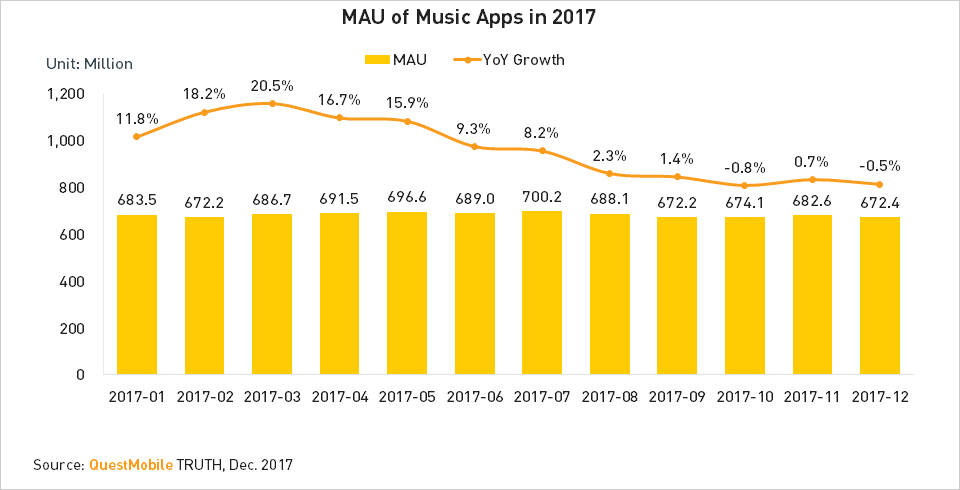 More Users Installing More Than One Music Apps
Due to the intensified copyright war in 2017, music apps such as NetEase Cloud Music had to remove those without copyright, so users who want to listen to various music had to install several apps.
Solid Monopoly Status of Tencent-affiliated Apps
After several rounds of industrial consolidation, Tencent cemented its monopoly in mobile music industry, with the affiliated Kugou Music, QQ Music and Kuwo Music all having 100+ million MAU.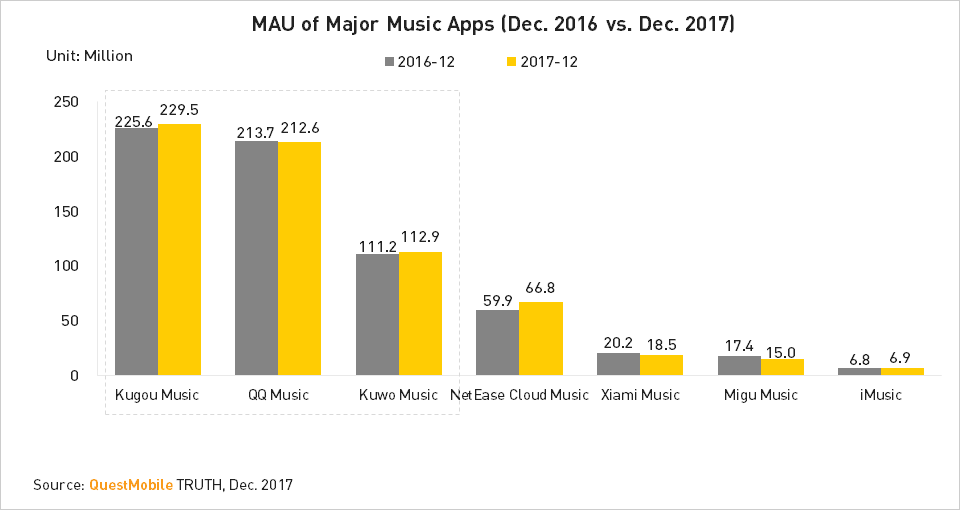 Xiami Music's Users Were the Most Active
To enhance users activity degree and stickiness, QQ music focused on music content; NetEase Could Music put effort into building music community; Kugou Music extended music entertainment services; Kuwo Music developed exclusive music content, campus original music, EDM, etc.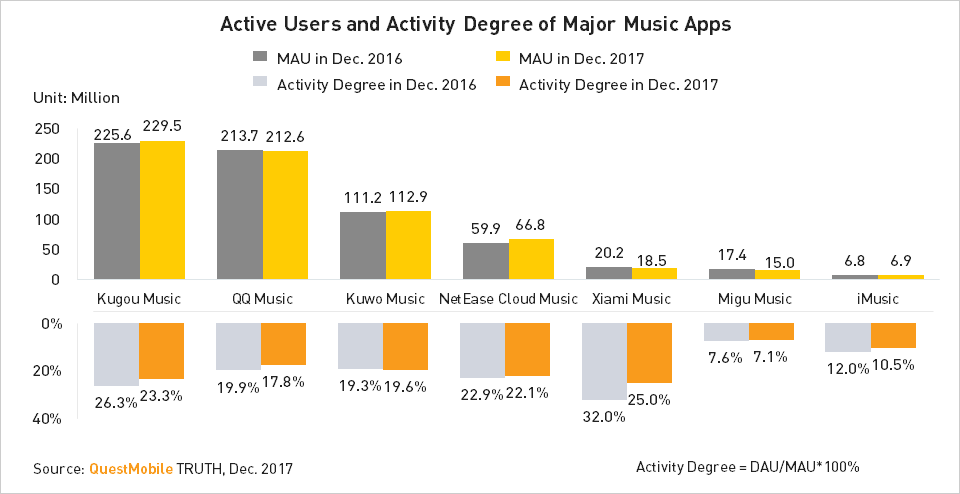 NetEase Could Music Retained Users With Community
Relying on music community, smart push, music content as well as several successful marketing activities, NetEase Could Music gained the highest 30-day retention rate among its rivals which skyrocketed to 35.6% in Nov. 2017.